Welcome to

Electric On Wheels
Latest News Electric Cars September - 2015
Tesla announced that it would begin delivering its first luxury electric crossovers, the Model X Signature series, on Sept. 29 to customers who have already reserved the sport utility vehicles.
The premium-priced special version of the Model X, eagerly awaited since it was announced in early 2012, will be priced between $132,000 and $144,000, a Tesla spokeswoman said.

Chief Executive Officer Elon Musk tweeted that the first production cars would be handed over Sept. 29 at the company's factory in Fremont, California.
Tesla has for some time been referring to 2017 as the year it will bring its fully electric car with a $35,000 starting price to market. But it's good for investors to hear Tesla is sticking with its timeline, even with Model X deliveries about to begin.

If demand for Model 3 pans out anything like it has for Model X, Tesla probably won't have to worry about doing much to solicit interest in the Model 3 ahead of launch. Despite no advertising and very little information on Tesla's Model X, the company had over 20,000 deposit-backed reservations for the vehicle going into 2015. And keep in mind: Those putting money down for their reservations knew that the Model X would be more expensive than Tesla's pricey Model S.
At a much lower price point than Model X, the addressable market for Model 3 will be far larger. How many reservations for Model 3 can Tesla solicit? Assuming the company chooses to share this information with investors, we'll find out next year.
BMW The BMW i3 opens a new chapter of a visionary design language for BMW, which is tailor-made for electric vehicles. The innovative LifeDrive architecture with carbon passenger compartment provides an especially roomy feeling in the interior (in part thanks to the absence of a centre transmission tunnel) and is characterized by the use of high-quality, sustainable materials. The aerodynamic exterior design with the opposing doors, the characteristic Black Band, and the large wheels create a dynamic impression about the BMW i3's driving agility even when it's standing still.

With its alluring styling and futuristic carbon-fiber/aluminum structure, the i3 takes BMW's driving to a new realm. For example: In testing, it went from zero to 60 mph in 6.5 seconds. Driving dynamics are on hand, too, thanks to the car's low center of gravity. The EPA estimates the range at 81 miles per charge; it can charge in three hours from a 220-volt outlet. An optional range-extending gas engine provides a total range of 150 miles and helps quell dead-battery anxiety.
Prices start at $42,400 for a base i3, compared to $41,350 for 2014. BMW also raised the destination charge $25--to $950--for a total price of $43,350.
The price increase also applies to the range-extended i3 REx model, which starts at $47,200--compared to $46,125 for the 2014 model.

Why go electric?
Electric vehicles (EVs) are propelled by an electric motor (or motors) powered by rechargeable battery packs. Electric motors have several advantages over internal combustion engines (ICEs):
Energy efficient. Electric motors convert 75% of the chemical energy from the batteries to power the wheels—internal combustion engines (ICEs) only convert 20% of the energy stored in gasoline.
Environmentally friendly. EVs emit no tailpipe pollutants, although the power plant producing the electricity may emit them. Electricity from nuclear-, hydro-, solar-, or wind-powered plants causes no air pollutants.
Performance benefits. Electric motors provide quiet, smooth operation and stronger acceleration and require less maintenance than ICEs.
Reduce energy dependence. Electricity is a domestic energy source.
The obvious implication is that an increasing population results in increasing greenhouse gas production. Similarly, increased dependency on technology results in increased greenhouse gases, even while engines become more efficient. If the number of drivers doubles, the fuel efficiency must also double, just to keep the emissions at the same level.
Conclusions: The rising population and dependency on technology are major factors in greenhouse gases.
Greenhouse gas concentrations are already close to dangerous levels for further warming and climate chaos in all parts of the world.
Mother nature is telling us to stop destroying the planet and start changing our habits. I hope this site makes you realize that we can help prevent further damage by at least considering Electric On Wheels or a hybrid vehicle.
---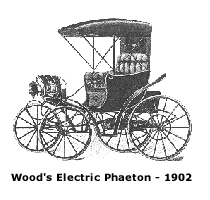 A brief history of the electric car.
Believe it or not, the electric car was amongst the earliest automobiles. Small electric vehicles predate the vehicles, namely the Otto cycle upon which Diesel (diesel engine) and Benz (gasoline engine) based the automobile. Between 1832 and 1839, a Scottish businessman called Robert Anderson invented the first crude electric carriage. Professor Sibrandus Stratingh of Groningen from the Netherlands, designed the small-scale electric car, built by his assistant Christopher Becker in 1835.
The improvement of the storage battery, by Frenchmen Gaston Plante in 1865 and Camille Faure in 1881, paved the way for electric vehicles to flourish. An electric-powered two-wheel cycle was demonstrated at the World Exhibition 1867 in Paris by the Austrian inventor Franz Kravogl. France and Great Britain were the first nations to support the widespread development of electric vehicles. In November 1881 French inventor Gustave Trouvé demonstrated a working three-wheeled automobile at the International Exhibition of Electricity in Paris.
Just prior to 1900, before the pre-eminence of powerful but polluting internal combustion engines, electric automobiles held many speed and distance records. Among the most notable of these records was the breaking of the 100 km/h (60 mph) speed barrier, by Camille Jenatzy on April 29, 1899 in his 'rocket-shaped' vehicle Jamais Contente, which reached a top speed of 105.88 km/h (65.79 mph).
Electric cars, produced in the USA by Anthony Electric, Baker, Detroit, Edison, Studebaker, and others during the early 20th century for a time out-sold gasoline-powered vehicles.
But unfortunately due to technological limitations and the lack of transistor-based electric technology, the top speed of these early electric vehicles was limited to about 32 km/h (20 mph). These vehicles were successfully sold as town cars to upper-class customers and were often marketed as suitable vehicles for women drivers due to their clean, quiet and easy operation. Electrics did not require hand-cranking to start.
The introduction of the electric starter by Cadillac in 1913 simplified the task of starting the internal combustion engine, formerly difficult and sometimes dangerous. This innovation contributed to the downfall of the electric vehicle, as did the mass-produced and relatively inexpensive Ford Model T, which had been produced since 1908. Internal-combustion vehicles advanced technologically, ultimately becoming more practical than — and out-performing — their electric-powered competitors.
Another blow to electric cars in the USA was the loss of Edison's direct current (DC) electric power transmission system in the War of Currents. This deprived BEV users of a convenient source of DC electricity to recharge their batteries.[dubious – discuss] As the technology of rectifiers was still in its infancy, changing alternating current to DC required a costly rotary converter.
Electric vehicles became popular for some limited range applications. Forklifts were EVs when they were introduced in 1923 by Yale; many battery electric fork lifts are still produced. Electric golf carts have been available for many years, including early models by Lektra in 1954. Their popularity led to their use as neighborhood electric vehicles; larger versions are becoming popular and increasingly ruled "street legal".
By the late 1930s, the electric automobile industry had completely disappeared, with battery-electric traction being limited to niche applications, such as certain industrial vehicles. A thorough examination into the social and technological reasons for the failure of electric cars is to be found in Taking Charge: The Electric Automobile in America by Michael Brian Schiffer.
The 1947 invention of the point-contact transistor marked the beginning of a new era for EV technology. Within a decade, Henney Coachworks had joined forces with National Union Electric Company, the makers of Exide batteries, to produce the first modern electric car based on transistor technology, the Henney Kilowatt, produced in 36-volt and 72-volt configurations. The 72-volt models had a top speed approaching 96 km/h (60 mph) and could travel nearly an hour on a single charge. Despite the improved practicality of the Henney Kilowatt over previous electric cars, it was too expensive, and production was terminated in 1961. Even though the Henney Kilowatt never reached mass production volume, their transistor-based electric technology paved the way for modern EVs.
Battery powered electric concept cars continued to appear, such as the General Motors "Electrovair" (1966) and "Electrovette" (1976). At the 1990 Los Angeles Auto Show, GM President Roger Smith unveiled the "Impact" electric car, the precursor to the EV1, promising that GM would build electric cars for the public. Nine months later, the California Air Resources Board (CARB) mandated electric car sales by major automakers. In response, makers developed EVs including the Chrysler TEVan, Ford Ranger EV pickup truck, GM EV1 and S10 EV pickup, Honda EV Plus sedan, Nissan lithium-battery Altra EV miniwagon and Toyota RAV4 EV. Automakers refused to properly promote or sell their EVs, allowed consumers to drive them only by closed-end lease and, along with oil groups, fought the mandate.
Chrysler, GM and some GM dealers sued in Federal court; California soon neutered its ZEV Mandate. After public protests by EV drivers' groups upset by the repossession of their EVs, Toyota offered the last 328 RAV4-EVs for sale to the general public during six months (ending on November 22, 2002). All other electric cars, with minor exceptions, were withdrawn from the market and destroyed by their manufacturers. To its credit, Toyota not only supports the 328 Toyota RAV4-EV in the hands of the general public, still all running at this date, but also supports hundreds in fleet usage. From time to time, Toyota RAV4-EVs come up for sale on the used market and command prices sometimes over 60 thousand dollars. These are highly prized by solar homeowners, who charge their cars from their solar electric rooftop systems.
If you become aware of any material on the website: Electric On Wheels - electriconwheels.com that you believe infringes your or any other person's copyright, please report this by email by using our online contact form.
The information on this site is for informational purposes only. Electric On Wheels - electriconwheels.com, its affiliates and content licensors assume no liability for any inaccurate, delayed or incomplete information, nor for any actions taken in reliance thereon.
Toronto Wedding Photographer - Bug Out Bag
Although care has been taken in preparing the information contained in this website, Electric On Wheels - electriconwheels.com does not and cannot guarantee the accuracy thereof. Anyone using the information does so at their own risk and shall be deemed to indemnify Electric On Wheels- electriconwheels.com from any and all injury or damage arising from such use.
Web Design & Management by Trinakria Development | Copyright © 2008